SpectraWiz® Spectroscopy Software
SpectraWiz®, StellarNet's main software program included free with every spectrometer, has many built in applications for SpectroRadiometry, SpectroColorimetry, SpectroChemistry, Optical Spectral Analysis, Calibration, and much more. The SpectraWiz® interface allows the user to change various parameters that control the operation of the spectrometer and how the data is displayed in real-time. For example, the spectral display may be zoomed, rescaled, snap shot, printed, graphed, exported, overlayed, and graphed in 3D from episodic capture. Other controls are provided for detector integration or exposure time, data smoothing (Savitzky-Golay, Box Car, Persistance), temperature compensation (every 15 seconds), and spectroscopy display modes such as absorbance, transmission and reflectance, irradiance, and scope view for raw spectral data..


SpectraWiz Radiometer Applications
StellarNet SpectroRadiometers include a configured spectrometer, a fiber optic cable (or direct connect SMA-coupler), a light collecting accessory and an Irradiance calibration (SpectroRadiometer). SpectraWiz Software can display the following-

- Irradiant watts per square meter per nm
- Irradiant microwatts per sq centimeter per nm
- Illuminant LUX - lumens per sq meter per nm
- Illuminant footcandles - lumens per sq foot /nm
- Moles per square meter per nm per second as
- PAR photosynthetic active radiation 400-700nm
- Power Spectral Density with selectable regions
- Radiant & Luminous FLUX with selectable area
- LED xy chromaticity, dominant λ, purity, mcd
- Color rendering graph with rapid sample logging
- Correlated color temperature & CRI index




UV Monitoring Applications
Display in units of watts for UVa, UVb, UVc, ratio UVa/UVb, Vis/Ir powerMax Time in seconds till Erythema action and Max Time till Melanogenic action (per formulas specified on FDA website - U.S.Food and Drug Administration) Quickly save sample readings to log file for export and/or printing.

- UVa, UVb, UVc, UV a/b ratio, Total Irradiance
- Power UVb, Power VIR
- Te Erythema minutes
- U.S.FDA & European tanning algorithms
- Real-time display with rapid sample logging



SpectraWiz Optical Spectrum Analysis Tools
- Display FWHM, centroid, and peak wavelengths
- Power spectral density via manual cursor setup
- Zoom x-axis, zoom xy window, set or y-autoscale
- View y-axis as log or linear scale
- Optical trigger event setup for spectral capture
- Episodic capture can save via optical trigger event


The SpectraWizard knows Spectroscopy!
The powerful SpectraWiz® 32/64 bit spectrometer software is providedfree of charge with every spectrometer instrument. This includes drivers and customizable software for operation on Win95/ Win98/ WinNT /WinME /Win2000 /WinXP/VISTA/Windows 7.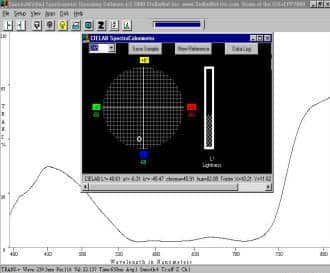 SpectraWiz Colorimeter Applications
StellarNet SpectroColorimeters include a configured spectrometer, a light source, and a reflectance probe or fixture. SpectraWiz Software can display the following-

- 1976 CIE LAB diagram for L*, a*, b*
- Delta E* comparator signals color differences
- Save and load color standards for Delta E* signal
- Color rendering graph with rapid sample logging
- Supports master and standard white referencing
- XYZ tri-stimulus, xy chromaticity, chroma, hue

















SpectraWiz Chemistry Applications
StellarNet SpectroChemistry systems include a configured spectrometer, a light source, and an appropriate sampling accessory (cuvette holder, probe, flow cell). SpectraWiz Software providessimultaneous window (with live spectra allows concentration calibration or loading of previously developed chemicals to be loaded for concentration display of unknown samples. Quickly save sample readings to log file for export and/or printing. Performs single wavelength linear PLS calibrations.

- Chemwiz concentration analyzer
- PLS calibration method save & recall
- Concentration display with rapid sample logging
- Episodic capture for kinetic studies
















SpectraWiz Spectroscopy Tools and Support
- Transmission %T, Absorbance AU, Reflectance
- Episodic data capture & Time series analysis
- Dual and multi-beam lamp drift correction
- Single-beam relative and absolute drift correction
- Spectral ratio display with selectable wavelengths
- First and second spectral derivatives
- Export spectra to Excel, Matlab, and Galactic
- Open, graph, zoom, and print up to 8 spectra
- Up to 8 spectrometers display on a single graph